Our Services
Ohio START (Sobriety, Treatment and Reducing Trauma) is an evidence-informed children services-led intervention model that helps public children services agencies (PCSAs) bring together caseworkers, behavioral health providers, and family peer mentors into teams dedicated to helping families struggling with co-occurring child maltreatment and substance use disorder. The Ohio Sobriety Treatment and Reducing Trauma (START) Model is an affiliate of the national Sobriety, Treatment and Recovery Teams (START) Model, an evidence-informed child welfare led intervention for families that has been shown, when implemented with fidelity, to improve outcomes for both parents and children affected by child maltreatment and parental substance use disorders .
The national START model is specifically designed to transform the system-of-care within and between child welfare agencies and behavioral health providers; it also engages the judicial system and other family serving agencies. The overall goal of this program is to stabilize families harmed by parental addiction so that both children and their parents can recover and move forward with healthy and safe lives.
OUR IMPACT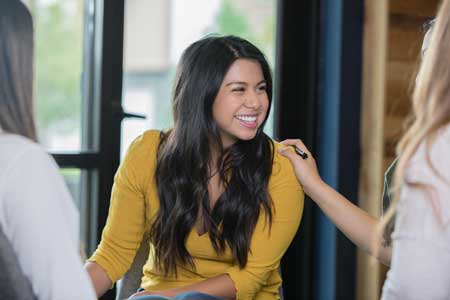 Identification
Early identification of families affected by substance use disorders.

Access
Providing timely access to assessment and treatment services.

Peer Support
Increasing parent recovery services and engagement in treatment through peer support.

Family-Centered
Focusing on family-centered services and parent-child relationships

Oversight
Increasing oversight for parents and children.

Shared Responsibility
Sharing responsibility for parent accountability and program outcomes across service systems.

Collaboration
Collaborating across service systems and with the courts.
Key Components
The Ohio START Model includes these key components
Cross-system collaboration with county public children services agencies (PCSA), behavioral health providers, courts, and other community partners, dedicated to building community capacity and making Ohio START work
Family-centered approach that fosters integrated systems-of-care between the PCSA, behavioral health providers and the courts by addressing differences in professional perspectives
Shared decision-making among all team players, including the family
Early family identification, engagement and intervention upon receipt of the referral to the PCSA
Quick access to quality SUD treatment and frequent, intense and coordinated service delivery
A holistic assessment for all parents, addressing substance use, mental health, and trauma
A specialized children services worker and Family Peer Mentor dyad serve families with co-occurring substance use and child maltreatment
The Family Peer Mentor brings real-life experience to the team and is a person in long term recovery with previous children services involvement. Family Peer Mentors are rigorously screened, trained and supervised to provide Ohio START families with both recovery coaching and help navigating the PCSA system
Capped caseloads for the START team to allow the worker/mentor dyads to support more intensive intervention
Sober parenting supports that include assistance with meeting basic needs such as housing,
transportation, child care and in-home services
Child-focused services to promote attachment, reduce the effects of trauma, and provide developmental supports
Evaluation to create a learning culture and identify opportunities to improve fidelity and family-centered outcomes
Ohio START emphasizes a wraparound approach for at-risk parents
This project creates an opportunity for a new best practice model designed to lead to better outcomes for children and families impacted by opiates and other drugs. The overall goal of this program is to stabilize families harmed by parental drug use so that both children and their parents can recover and move forward with abuse-free and addiction-free lives. Ohio START integrates community partners to ensure the seamless provision of wraparound services.